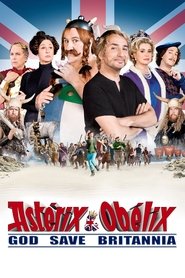 Asterix & Obelix: God Save Britannia
Asterix & Obelix: God Save Britannia is a 2012 France, Hungary, Italy, Spain Family film starring Gérard Depardieu directed by Olivier Delbosc and produced by Stunt Bros with duration 110 min. Asterix crosses the channel to help second-cousin Anticlimax face down Julius Caesar and invading Romans.
Genre: Family, Adventure, Comedy
Actor: Gérard Depardieu, Edouard Baer, Guillaume Gallienne, Vincent Lacoste, Valérie Lemercier, Fabrice Luchini, Catherine Deneuve, Charlotte Le Bon, Bouli Lanners, Dany Boon, Atmen Kelif
Director: Olivier Delbosc
Duration: 110 min.
Quality: HD
Release: 2012
Production: Stunt Bros
IMDb: 5.1