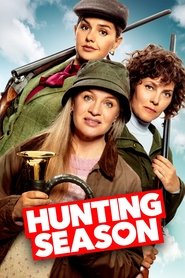 Hunting Season
Hunting Season is a 2019 Comedy film starring Lars Ranthe directed by Lars Mering and produced by Nordisk Film with duration 90 min. Eva, a recently divorced, single mom, goes away for a weekend at a spa with her childhood friend Marlene to help her get through her midlife crisis. Isabella, the new girlfriend of Eva's ex-husband, has also joined the trip and is trying hard to become Marlene's new best friend. Eva's friendship with Marlene is at risk, as the women reveal their worst sides during an unfortunate Brazilian wax, a failed pheasant hunt and other trials. The question is: Can Eva fix things between her and Marlene, build a healthy relationship with Isabella and still save her son's birthday?
Genre: Comedy
Actor: Lars Ranthe, Lærke Winther Andersen, Mille Dinesen, Jon Lange, Stephania Potalivo, Rasmus Botoft, Anders Brink Madsen, Lado Hadzic, Martin Bo Lindsten, Bertil Karlshøj Smith, Tommy Kenter
Director: Lars Mering
Country:
Duration: 90 min.
Quality: HD
Release: 2019
Production: Nordisk Film
IMDb: 4.8