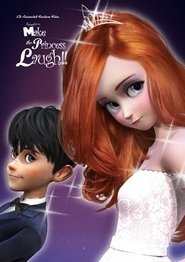 Magical: Make the Princess Laugh!!
Magical: Make the Princess Laugh!! is a 2020 South Korea Animation film starring directed by Youncheol Jeong and produced by ANITOART Inc. with duration 80 min. On her seventh birthday, Princess Lia's mother is killed. Toma, a psychic nomad, loved by the King, suddenly appeared in front of the Queen's cortege and, using psychic powers, crushed her vehicle, and disappeared. When the large operation to apprehend him fails, the enraged King expels the nomadic tribes from the kingdom, and pampers the princess within the walls of the palace, to protect her. 10 years later... Princess Lia, now 17, escapes the palace to enjoy adventures outside, and discovers a new and enjoyable world, and love, through a street artist, Teo, whom she met. The story unfolds, with a beautiful music, about two people overcoming stereotypes and discovering love.
Duration: 80 min.
Quality: HD
Release: 2020
Production: ANITOART Inc.
IMDb: 0