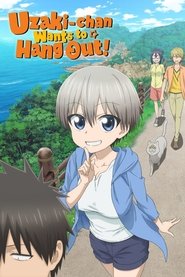 Uzaki-chan Wants to Hang Out!
Uzaki-chan Wants to Hang Out! is a movie starring Kenji Akabane. Shinichi Sakurai's one wish is for a little peace and quiet. But Hana Uzaki — his boisterous, well-endowed underclassman — has other plans. All she wants is to hang out and poke fun at him. With the help of her chipper charm and peppy persistence, this might just be the start of a beautiful relationship!
Genre: Animation, Comedy
Actor: Kenji Akabane, Naomi Ozora, Tomoya Takagi, Ayana Taketatsu, Yōsuke Akimoto, Saori Hayami
Director: Takashi Aoshima
Production: AT-X, TV Aichi, Tokyo MX, BS11, Asahi Broadcasting Corporation
Duration: 24 min.
Quality: HD
First Air Date: Jul 10, 2020
Last Air Date: Sep 25, 2020
IMDb: 8.4